Lots of changes for the new year starting with the addition of Foshay International to our calendar.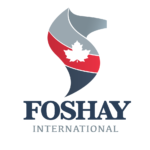 The event, happening August 30th to September 2nd. Nestled on the river's edge in beautiful Jemseg, New Brunswick, Foshay International is a one of a kind event.

We are also very excited for our friends at Equestrian Events, Inc. who organize the Land Rover Kentucky Three-Day Event in Lexington, Kentucky. Congratulations on the new title sponsor announced recently.
Bromont Horse Trials held at the Bromont Olympic Park in rural Quebec has added another

weekend to their calendar. August 17th to 19th will see CIC3*, CIC2*, CIC1* and Training competition which historically has been very well supported and attractive to riders from across North America.
Red Bay Group will have staff on the ground leading up to and during the 2018 FEI World Equestrian Games in Mill Spring, North Carolina. Staff will be handling press services, travel and accommodations and local support staffing needs for customers from about the world. Contact us, we can help!